A Ukrainian Air Force An-12 transport plane skidded the runway at Uzhgorod airport. Notably, the Avia Russia site said that this aircraft was carrying a batch of Bayraktar TB2 UAVs. Currently, Kiev has not commented on the comments of the Russian media.
Russian media reported that at the airport in the Ukrainian city of Uzhgorod, there was a runway skidding, the victim was an An-12 military transport plane. Avia page said that it is possible that this aircraft is carrying a batch of 3 Turkish Bayraktar TB2 drones that have just been handed over to Kiev.
It is known that the Ukrainian An-12 transport plane crashed with registration number UR-11316. Based on the image, it can be seen that the landing gear was badly damaged, fortunately there were no casualties in this accident.
The Antonov An-12 (NATO reporting name: Cub) is a four-engine medium transport aircraft, a military version of the Antonov An-10 passenger aircraft. The first prototype (number 7900101) built in Irkutsk made a test flight on December 16, 1957 with the Kuznetsov NK-4 engine. More than 900 other aircraft are equipped with AI-20K engines in both civilian and military versions.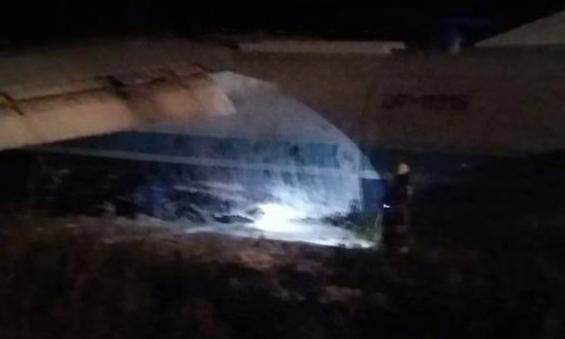 From its official introduction in 1959 until the end of production in 1973 in the Soviet Union, a total of 1,248 An-12s were produced. Russia and Ukraine are among the countries that own many An-12s because they are inherited from the Soviet Union. Up to now, more than 100 An-12s are still in use in the air forces of 9 other countries, nearly 200 operating in the field of civil aviation.